Secure Your Home Against Burglary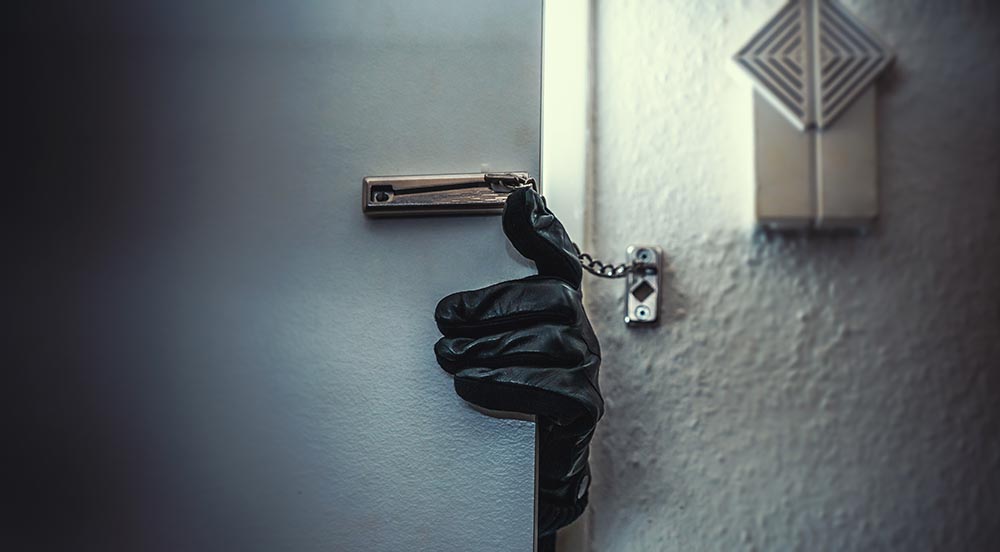 Taking a few steps can be enough to prevent a burglar getting into your home. Burglars look for simple opportunities to enter, so just using your existing door and window locks will help – one of the most common forms of entry is still by an open window or door.

A burglar alarm is an excellent deterrent and they come in a variety of forms depending on what you require. A new type of device that is helping to identify burglars and other unwelcome callers is the video doorbell. If pressed or when a sensor beam is activated, live images are sent to your smartphone via an app, allowing you to keep an eye on any caller regardless of your location.

A speaker capability via the smartphone allows you to communicate and challenge any visitors – a great way to drive off a burglar, as you can see them but they can't see you. A subsidiary camera placed at the rear of your home can also operate on the same technology to catch anyone trying to break in from there.

During the longer nights from October to March burglaries often peak, so it is worth having a light, TV or radio activated on a timer switch at dusk – this creates an illusion of occupancy to deter a potential thief. If you are concerned about whether you have the right locks on doors or windows, contact a member of the Master Locksmiths Association – they will attend and check these for you and can upgrade them if necessary. It is important to check your home contents insurance as part of this, as you may be expected to have a minimum level of physical security as part of your existing policy. If you are having building works at home, you can take the opportunity to have security rated doors and windows installed – these products are specifically designed to resist attack for a certain amount of time and are included in most new build homes.



"Never advertise on social media when you are going away"

It's also important to consider the contents of your home. There are a variety of forensic property marking schemes available, which allow you to mark valuable items and register them to your address. They can then be traced back to you if they are stolen and recovered. Homes where contents have been marked should have a sticker placed in the front window – to act as a further deterrent. Home safes, bolted to a wall or floor, have become a popular way to store valuable items but they have limitations. All safes are insurance rated according to the type and value of items designed to be stored within – so once again, check your insurance to see if you are adequately insured when using a particular safe. Gangs have been known to target homes where they know a safe is present – so if you have a large quantity of jewellery or other valuable items, it may be safer to store them in a safety deposit vault.

Don't forget other areas of your home – sheds are targeted for bikes and machinery stored inside, and any tools stored there are often used by burglars to break into nearby homes. A shed alarm, closed shackle padlocks, tamper proof hinges and screws are essential to secure them properly. If you have a garage, consider extending any domestic burglar alarm to ensure it is covered.

Burglars often target premises from the rear where they cannot be seen so if you have a rear garden, ensure it is secured with robust fencing and any access path has a full height lockable gate to ensure access cannot be easily gained from the front. Keep any bins stored behind gates to prevent them becoming a climbing aid. Check with your local planning office about how high your fence line can be.

Lastly, never advertise on social media when you are going away – it's an easy way for burglars to know when a house is unoccupied.

For burglar alarms see the National Security Inspectorate and the Security Systems and Alarms Inspection Board:
nsi.org.uk
ssaib.org
Secured by Design provide information about security rated products including door, windows and video doorbells: securedbydesign.com

The Master Locksmiths Association accredit reputable, vetted locksmiths throughout the UK: locksmiths.co.uk
For further crime prevention advice: met.police.uk/crimeprevention
Contact Us
Book a FREE, 5 minute consultation with one of our experts
You might also be interested in
Rated an average of 4.9/5 by our customers.
Email me the FREE RICS Survey Guide
Thank you.
The FREE RICS Survey Guide has been sent to you.
Please check your email.
Top